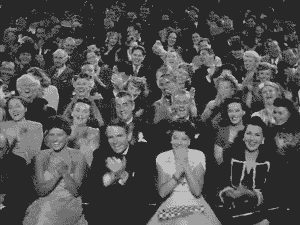 Follow us on twitter and become a fan of ETF Digest on facebook
Enthusiasm and a substantial short squeeze broke out in markets globally as warring politicians agreed to talks. The only thing we know as a result is there might be a six week "kick the can" debt ceiling window. And, even if that's correct we'll be revisiting this issue then. Like the Yahoo/Finance headline read: "Stocks Surge As Republicans Offer Plan to Postpone U.S. Default" So it's just temporary then?
Nevertheless any move toward compromise was welcome news for stock bulls since their only concern is more liquidity and less stress.
Jobless Claims data is still screwed up with computer glitches still affecting California. Claims jumped by 66K to 374K vs 308K previous. This may just be the repeat of the "bad news is good" theme meaning more QE.
Stocks jumped 2% and more as the DC thaw allowed for large gains throughout market sectors in the U.S. and globally. There's little sense in listing all the gainers as some are featured in charts below. Losers included gold (GLD) and bonds (TLT).
Volume was high given recent levels of activity and breadth per the WSJ was a positive 90/10 day on share volume.
...
Remember in 2011 when we had a debt ceiling crisis markets fell and rose weekly for several months. Now we've just postponed things until early to mid-November. Then these tensions will reappear quickly one would assume.
The way ObamaCare is going now it needs to be fixed anyway or it will die of its own weight. I think he knows this.
Let's see what happens.
Disclaimer: The charts and comments are only the author's view of market activity and aren't recommendations to buy or sell any security. Market sectors and related ETFs are selected based on his opinion as to their importance in providing the viewer a comprehensive summary of market conditions for the featured period. Chart annotations aren't predictive of any future market action rather they only demonstrate the author's opinion as to a range of possibilities going forward. More detailed information, including actionable alerts, are available to subscribers at www.etfdigest.com.
Disclaimer: The charts and comments are only the author's view of market activity and aren't recommendations to buy or sell only any security. Market sectors and related ETF's are selected based on his opinion as to their importance in providing the viewer a comprehensive summary of market conditions for the featured period. Chart annotation's aren't predictive of any future market action rather they only demonstrate the author's opinion as to a range of possibilities going forward. More detailed information, including actionable alerts, are available to subscribers at www.etfdigest.com